Reach out with Questions!
Hi all! The SmartGlamour shop is temporarily closed while we catch up on the lovely but large amount of orders we have received in the past few months. We will then be taking a mini-break to relax and recalibrate. Stay tuned to our social media and newsletter for updates. We thank you for your patience, love, and support of our small, ethical, inclusive business. More info in our How to Order and FAQ pages and on Instagram. Please feel free to reach out with any questions!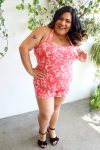 The Wilma Sweetheart Romper
$65.00
The Wilma Sweetheart Romper was made for sunny days! We can customize the standard halter to be criss-crossed or vertical. This romper is made with cotton sateen and stretch cotton twill so you can feel great while wearing it.
Ordering a set size? Please take a look at our Sizing Chart and choose based on your current measurements. Remember – measurements and sizes mean nothing aside from how much fabric and thread is needed to create your garment.
Interested in customizing this order but unsure about how to measure? Visit our How to Order page for tutorial videos. Then enter your measurements in the appropriate boxes below. Our model Alex is wearing a 3X with a custom waist placement as she is 5'2 and short waisted.
The Wilma Romper is available in cotton twills and cotton sateens. For further information on our fabric types – stretch, weight, drape, comfort, etc – scroll down to read more.
Description
The Wilma Sweetheart Romper comes in stretch cotton twills and cotton sateens.They are medium weight with horizontal stretch for comfort.
Additional information
| | |
| --- | --- |
| Weight | 0.75 lbs |
| Size | XXS, XS, S, M, L, XL, 1X, 2X, 3X, 4X, 5X, 6X, 7X, 8X, 9X, 10X, 11X, 12X, 13X, 14X, 15X |
| Color | Black, Black and Gold Metallic Dot Cotton Twill, Bright Coral Cotton Twill, Bright Pink Cotton Twill, Bright Teal Cotton Twill, Coral Diamond Twill, Coral Floral Twill, Cream Pink Ditsy Floral Twill, Gold Metallic Twill, Navy Mini Pineapple Cotton Twill, Purple Metallic Twill |
Only logged in customers who have purchased this product may leave a review.