Reach out with Questions!
Hi all! The SmartGlamour shop is temporarily closed while we catch up on the lovely but large amount of orders we have received in the past few months. The shop will now be closed until at least August 15th. We will update here and also on all of our social media pages. We thank you for your patience, love, and support of our small, ethical, inclusive business. Please feel free to reach out with any questions!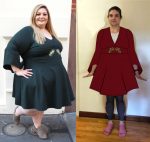 Virtual Try On!
$15.00
Ever wish you could see what a SmartGlamour item would look like on you – but you don't live in NYC (or a city we pop up in) – or maybe it's an item we aren't likely to stock in a shop – you're in luck! We now have virtual try on.
As illustrated in the main image – where Meredith is virtually trying on our Sabrina Dress – you submit an image of yourself, full body standing against a solid wall in form fitting clothing – and we will accurately sketch our items on top. The color/print will match your selection.
In the gallery, you'll see some of our Model Directory babes virtually trying on the following items: the Alexa Dress, the Shonda Dress, the Annalise Dress, the Noelle Dress, the Cher Blazer, Farah Tee, + Jane Skirt, the Zetian Dress, and the Laure Dress.
The fees for this service will be immediately turned into a discount code and sent back to you along with the images so that if you end up purchasing any of your items, trying on your virtual items was free!
Any questions? Shoot us an email at smartglamour@gmail.com.
Only logged in customers who have purchased this product may leave a review.