By Katie Sotack
The same as our clothes, our models are unique, character-driven, and tailor made to their internal compasses. Like individual finger prints, no one model is the same as the other. SmartGlamour founder, Mallorie Dunn, makes sure of it. For a customizable clothing brand championing a community where everyone is welcome, it seems like a nonstarter. Celebrating natural bodies equates to models that vary.
Pre-pandemic, SG hosted a monthly blog dedicated to showcasing these beautiful babes entitled "Model of the Month". Much like concerts, sporting events, and family gatherings, the blog is making it's triumphant return post 2020-2021.
 This month's model has a clear passion for her work as a body positive model and in any photos of her, you can tell she's having the time of her life on set.
Our December 2021 model of the month is Melissa!
Melissa recently sat down for an interview with us and provided insights on body neutrality, her career- both on and off our set- and what SmartGlamour means to her. Without further ado, here's what she had to say:
Aside from occasionally modeling for SmartGlamour- what do you do?
My path has been incredibly varied, but currently I'm a Salesforce Administrator at a boutique consulting firm that specializes in handling class action lawsuits. Basically, I maintain our database and continually work on it in order to make it work better. It's interesting going into a tech field, particularly as a woman. I'm lucky in that my manager, who held my position before me, is also a woman so I have someone who understands the additional pressure of being a woman (femme) in tech.
How did you get involved with the brand?
I was scrolling through Facebook one day in late summer of 2017 and I saw an ad for casting. I looked through the website and fell in love with it. I loved seeing so many different types of people smiling and looking actually happy and also looking cute AF. The brand meshed well with my own ethics. I had been complaining about how it was hard to find someone who looked like me modeling clothes, most plus size models are on the smaller end of plus size and also tall. I wanted to know what clothes would look like on me, a 5'2 fat woman.
One of my main goals in life is not only talk the talk about body positivity/neutrality, but also to walk the walk (in this case, was looking to do that literally). Prior to this, I was a belly dancer, being heavily involved in a troupe back in Western Massachusetts (Crescent Dancers). So why not attempt this? I showed up to casting, met some lovely humans, and the rest is history!
You've modeled for us multiple times- what makes you continue to come back?
There are a couple reasons why I keep coming back, A. I want to continue to walk the walk and B. The whole experience of the photoshoots is utterly magical.
Each time I model, I increase the number of positive images of fat women. Each joyful picture of me fights the stereotype. I rarely saw happy photos of fat folks where they are shown love and are supported by a wonderful community.
What does body liberation mean to you?
Body liberation, to me, means freeing oneself from the societal expectations of what we're supposed to look like. It means challenging the status quo. It's a rebellious act of not hating one's body and of learning peace in one's body.
I remember as a young child praying that I would wake up not fat, I remember lying on the couch (I did not have my own room or bed until I almost 9) at night dwelling on the fact that I was so much bigger than my friends – yes, I was tall at one point in my life. All I want to do is to hug that child and let her know that it will be ok.
As I got older, I started developing chronic pain issues. My chest developed very early so I walked around with my arms crossed over my chest and hunched over, so no surprises that I developed back issues in my teens. Since then, I've been plagued with muscles spasms galore and a bulging disc. I was a toe walker as a child and it never got addressed and now I'm in near constant pain of some sort from my feet.
"Learning to come to terms with being fat, short, and in constant pain was tough. Either I could be upset about life or learn to accept my body and celebrate it for what it can do. It's a daily struggle, dealing with visible belly lines and how can I hide that to wanting to wear the cute shoes but calculating how much walking was in my commute and the likelihood of getting a seat on the train. I love going to Broadway shows and I always dress up for it including shoes, so I have to worry about the availability of train seating, how far from the station is from the theater, to hoping there are elevators in the theater, to hoping I am comfortable in the seats.

Calculations like these happen every day for me and it can get very tiring. But I still do all these things. I still go to the theater in my cute shoes and I still go to the Botanical Gardens (for example) with friends, I just need to treat myself like a good friend and tell myself it's ok to take breaks if I need to when my body protests."
Body liberation is the defiant act of treating oneself with kindness.

If there is a message you could put across to women, femmes, and non binary folks through your modeling photos – what would that be?
Being fat and fabulous are not mutually exclusive! This is both to fat folks and not fat folks in the hopes of tackling both internalized fat-phobia and run of the mill fat phobia.
What is your advice to people who would like to give modeling a try?
Do it. There's a good chance that there is someone out there who looks like you and is desperately searching to see representation in the media. It's hard to be that representation without having a role model for yourself, but it is so worth it.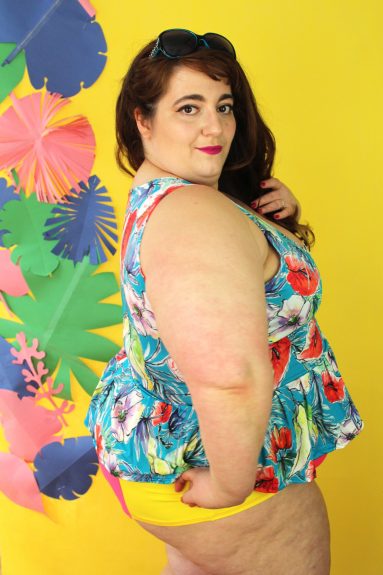 Melissa in our Chrissie Ruffle Tank Swim Top
A big thank you to our model of the month, Melissa for sharing with us!
Did anything she say resonate with you personally or that you'd like to hear more about? What does it mean to you to see models that look like you? Please share in the comments below to discuss.