Transitioning your closet from one season to the next is a struggle for most of us. With the coming and going of seasons – changes are not just happening with the weather, but with our style. Our fashion choices shift, sometimes drastically. Maybe most of the winter you opted for a hoodie and sweatpants. No shame in that! But now Spring has arrived, the birds are singing, the flowers are blooming activating your allergies, and you've decided you no longer want to rock the chic 'working from home' look. You want florals and lemons on everything in a range of various pastels. Either way, new clothes are no doubt a part of transitioning your style to fit the season. Unfortunately, in the fashion industry, when there is a desire for new clothing most people turn to fast-fashion.
The term fast fashion is seen all over Instagram, in news articles about how the fashion industry is killing the environment, and on blogs like ours that actively advocate for ethical and sustainable fashion. So what does it mean?
Fast-fashion is a term used to describe the clothing industry that mass-produces replicas at a low cost. The durability and materials used aren't considered. The sizing is usually lazy and inconsistent. Worker's rights and overall safety are neglected. The environment pays the price for items returned to the company. Fast fashion is notably convenient and cheap. You can impulse order a dress in under 5 minutes for under $20. However, what we don't see after pressing the purchase button is the effects that participating in fast fashion has on the environment, people, and how durable the quality actually is. 
When you buy from online outlets and major chain stores not only do you miss out on garments like these, but your purchase contributes further to ongoing global problems.
For us, this is where slow fashion comes in. Slow fashion is the awareness and approach to fashion that considers the processes and resources to make clothing creating conscious consumerism. This approach is at the heart of everything we at SmartGlamour do. We put consideration into our garments from the process and the resources that are required to make them.
The Or Foundation (@theorispresent on Instagram) talks a lot about the truth behind fast fashion and the donation industry within the U.S. "The truth is that most clothing is donated simply because fast fashion requires turn over, not attachment." Many clothing donation companies like Goodwill throw out their donations because there is simply too much being donated. The issue isn't the lack of resources to recycle our clothing – the problem is that clothing is produced far more than what is consumed by the public.
Details Really Do Matter!
The details matter in fashion! At SmartGlamour everything is made once it is ordered. If you don't order it, it doesn't get made. This means less waste. Instead of buying low quality fast fashion pieces that will end up either being burned or thrown away (harming the environment and other countries economies), use that money to buy garments that are not only durable, but will last you from season to season, and are versatile with changing trends. In our world, less is more. We have a commitment to sustainability! We only produce collections seasonally and yearly, rather than weekly, and promote quality well-made clothing that you'll want to keep and can wear for years to come, rather than throw out the next season.
Speaking of details, fabric sourcing and the materials we use are important to us. Almost all of our fabric is purchased from small businesses within our local community. To keep costs down and items as machine-friendly as possible, we use fabrics that are mostly cotton-based with spandex for comfort. Comfort will always be key!
A few of our recent Spring pieces will still work wonderfully with the warmer weather rolling in!
Speaking of comfort, sizing is a detail that matters too. With many fast fashion brands, sizes are intentionally distorted to contribute to consumerism and increase waste. However, a standard for sizing was a necessity for companies when ready-to-wear fashion was beginning to ramp up.
Mallorie Dunn, owner and designer of SmartGlamour, explains what standard sizing is in one of our Instagram posts: Clothing must be made up to some standard, but what is that standard and who decides it? It is made up! We all know the title of "fashion designer" but the job that handles size and fit is called the "technical designer." The technical designer creates the specs that are sent to the factory to make the pieces. And every brand that manufactures clothing in this way has their own technical designer. The company makes their size, range, and fit decisions based on who they are as a brand – who is their customer?" A SmartGlamour blog post back from 2017 further discusses the influence of standard sizing and its correlation to fast fashion here!
Every item we have can be customized to fit any and everybody. We practice what we preach and our models represent just that. Our models come in all shapes, sizes, heights, weights, abilities, ethnicity, age, and identity – just like our customers.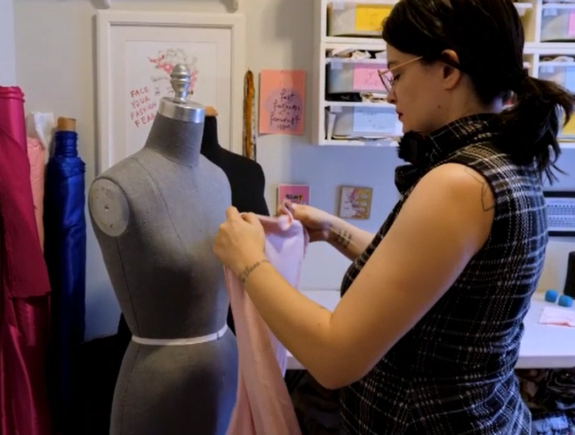 Make The Transition Sustainably
So if you are reading this and looking for a company to help you with your journey of transitioning your closet from one season to the next, consider ours. SmartGlamour is not just a brand – we are fashion activism. We are a part of the slow fashion movement: focusing on being ethical, sustainable, customizable, and affordable. Let us help you on your mission making your closet more sustainable, long lasting, and fulfilling!