A few days late, but our last Model of the Month feature from 2017 is here, in 2018! This month we are introducing you to Moet Cristal – an SG staple who has been in multiple shoots, shows, and campaigns. Moet even created the floral backdrop from our Fall 2016 shoot and show. Learn more about this awesome artist below!
[hr]
1. Aside from occasionally modeling for SmartGlamour – what do you do? 
I'm a freelance plus size model, visual artist focusing on curvy colorful work in mixed media, photography & digital form, as well as a personal care assistant.2. How did you get involved with the brand?
I found SmartGlamour through their Winter Holiday campaign in 2015. When I went through seeing all those women of different heights, shapes, sizes, and ethnicities, modeling such cute, luxurious styles, I was hooked on the brand. I then signed up for their newsletter and followed SG on Instagram and I auditioned in January/February 2016 for their Spring Fashion show and lookbook.
3. You've modeled for us multiple times – what makes you continue to come back?
The clothes are beautiful and unique! However the core, the soul of SmartGlamour is so beautiful. It is the atmosphere created by so many diverse, intelligent, multi talented babes who are all awesome in their eclectic ways, coming together for the sake of empowerment through designer Mallorie Dunn's fashions. When we join together for an SmartGlamour event, shoot, or show, the feeling of encouragement oozes from each SG babe. It's like a big fashionable, feminist family!4. What does body positivity mean to you?
Body positivity is accepting and embracing yourself (and others) as you exist in this moment. Body positivity is for everyone and every type of body. It can be hard to unlearn what society tells us is "ideal" – but it's doable by living moment by moment. What I have learned through working with and following SmartGlamour is that body positivity is realizing that your experience is only yours, and to be really bopo one must be able to listen to the multitude of varying experiences the people you encounter have. It is also standing up for yourself and people who are marginalized by the standards of society. We each deserve to achieve greatness and love ourselves as we are. When we advocate for those who cannot advocate for themselves and may not an fair chance, we can all make progress and thrive.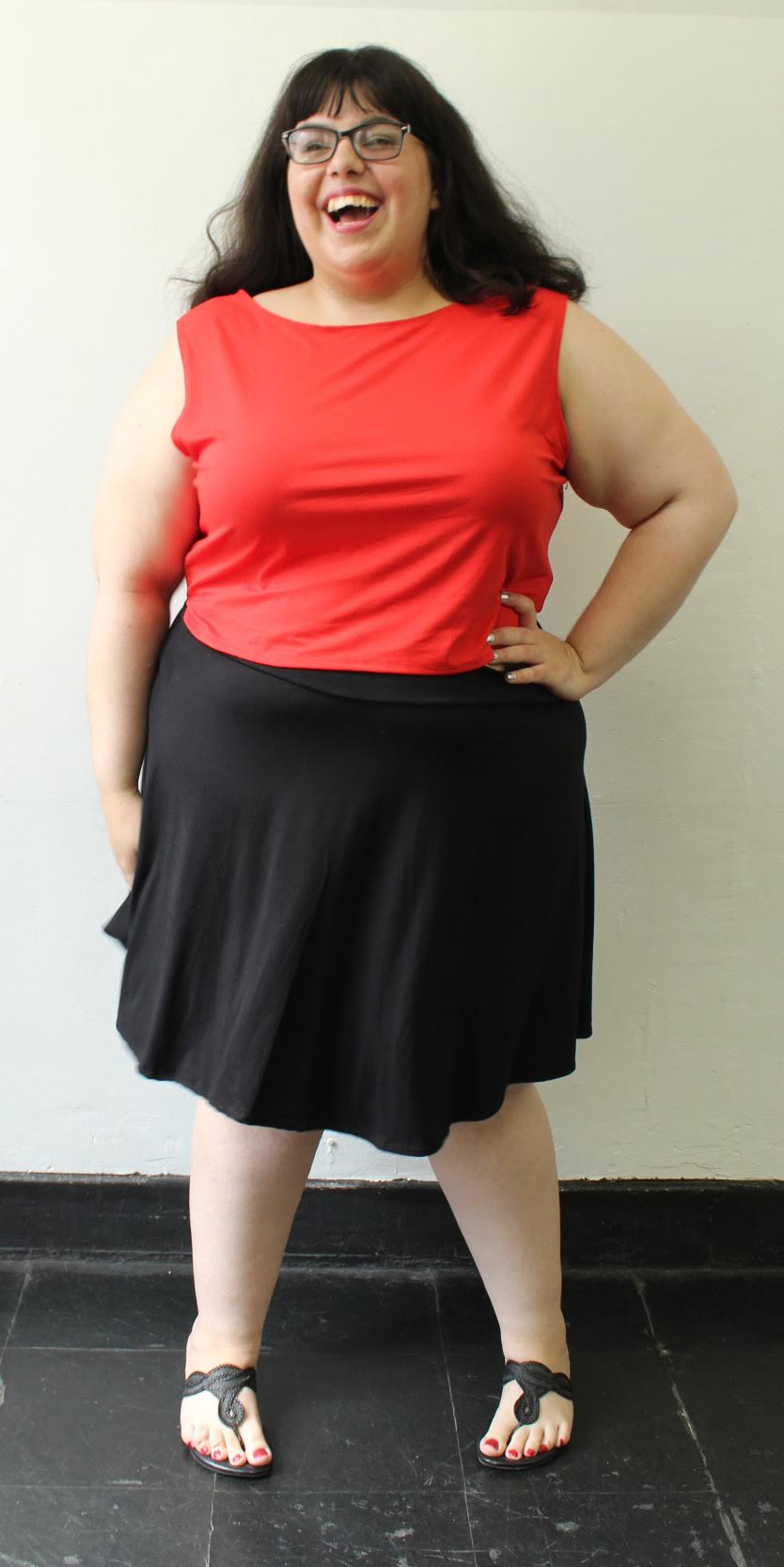 5. If there is a message you could put across to other women/femmes/non binary through your modeling photos – what would that be?
I'm a very hairy, queer Puerto Rican woman, average height at about 5'5.5" tall, size 24-28 (3-5x depending on the brand), who deals with acne, wears glasses, and has had to cope with mental illnesses such as anxiety, ptsd, and depression throughout my life. I say all of that because society/trolls will try their best to make you feel terrible for being HUMAN – but I'm still out here being FIERCE, FAT AND FABULOUS!!! Modeling is something that I do for myself, and I love to do it, but it can be challenging when things are pulling at you to do other things, including hate yourself, or put yourself last. You have to learn to put yourself first! Learn to love yourself first and to see the innate beauty in not only your body, but your mind and spirit. Treat yourself well and exude your unique greatness in life. Those quirks you have are what makes you, you. Don't let ANYONE (including your inner bully) dull your shine!!!6. What is your advice to people who would like to give modeling a try?
I would say DO IT! It is fun and very rewarding!!! If they are looking to make a career out of it,  I would give this advice: It's competitive but I believe there's room in the industry for everyone who will work hard for it. Start small and locally. Find someone, could be a friend, family member, or a photographer who is local to you to take photos of you. Take portraits and full length shots; experiment with poses, facial expressions, angles, and learn to find your light. Practice, practice, practice! Post frequently on your social media and tag the brands that you wear. Google is your best friend; Research everything you can about the industry and niche you want to work in. Invest in what you need to present yourself the way you want, whether it's clothes, makeup, tech, books, or classes. It can be an expensive adventure establishing a career as a model… But take it slow, one day at a time, one step at a time, and believe in yourself – you're amazing, beautiful!