Here at SmartGlamour, we are committed to promoting body positivity in the fashion world not just through our clothing, but through the images we share on this website and social media. We aim to have SmartGlamour's models represent every kind of body you can find.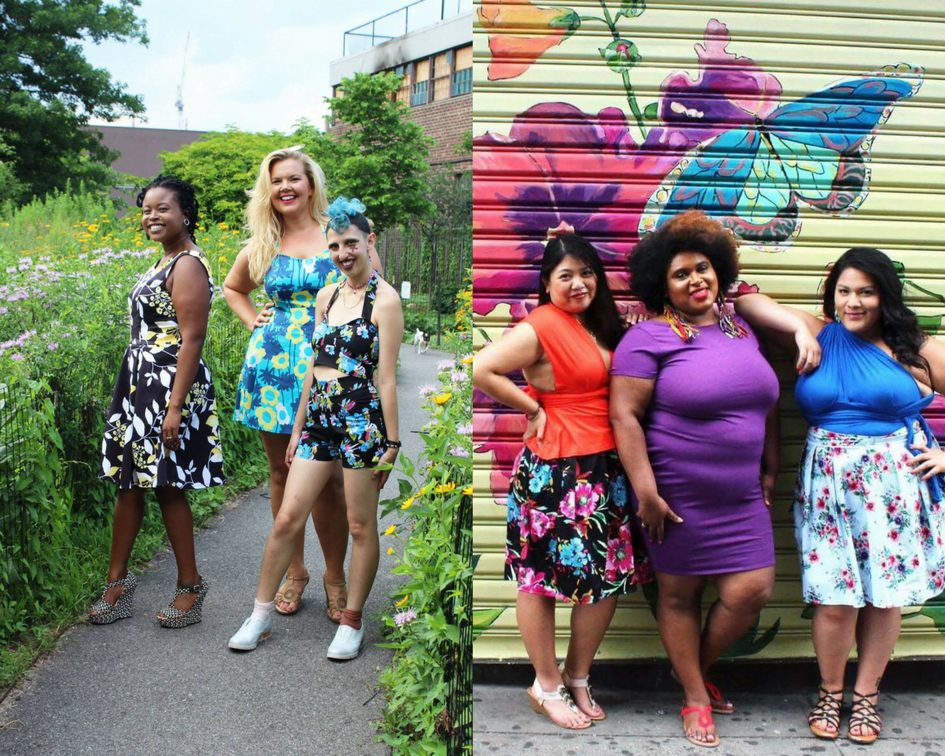 And when we say "all" bodies are good bodies, we mean "all" in the literal sense.
SmartGlamour holds castings open to the public for models in our Spring and Fall campaigns, as well as periodically have open-to-the-public castings for smaller campaigns, usually focused on new designs and fabrics added to SmartGlamour's line. Recently, SmartGlamour's founder Mallorie Dunn held a body positive modeling class for SmartGlamour's models. Here are some tips she shared in that class, for support in your body positive modeling career!
Things to think of before you get in front of the camera:
Who's the photographer? If you know who you're shooting with, look up or ask for samples of their work and get a sense of their style.

What makeup and hair will be needed for the shoot? If you're attending a casting or a shoot and no information has been given, ask. Be as prepared as you possibly can.

What poses will you give the photographer? Have about three to five poses ready as your fallback. If you aren't sure what poses to use, consider:

How you normally stand can be a pose!

Three variations of a pose that will give different looks in a shot include turning your head in a different direction, putting a hand on your hip instead of hanging down and a look away instead of directly at the camera.

Some faux "movements" you can try are taking a step forward (to simulate walking), a fake "jump" if you're able. Hands extended can be fun and work to give your pose movement as well.
When in front of the camera:
Think about where the light will hit you. If you are looking to highlight a part of your body (such as your face), you want to be sure that the light is facing in that direction.

Whether the frame is a headshot photo, upper torso, full length, etc. keep in mind the positioning of the parts of your body that will be in the photo, particularly if you are looking to highlight an item of clothing or accessory in the shot. If you are not sure what frame the photographer is shooting, ask them.

Think about what details need to be shown of what you're modeling. For example, if you are modeling a top with a detailed back design, you will want to include some shots of the detail in the back. If you are not sure what should be shown, be proactive and ask the photographer and/or the person or company for whom you're working.

Many people hold stress in their face and this can come through in a shot. Remember to breathe between each shot, and with each exhalation let your face settle into whatever look you're trying to give. Also remember that, while you are working, you're having fun! Let your joy you feel modeling shine in your face (even if you aren't smiling).

It's a good idea to ask the photographer about the shots, especially if you aren't getting feedback. This will help you picture what you're giving the camera as you pose.
Tips for the runway:
Whether you're modeling for SmartGlamour or another company, please keep in mind:
The points where you need to pause to show off the clothing. The runway director will give you direction.

The direction of the light. Think of it as a moving photo! The light will be on you. Keep your head up!
The placement of the photographer at the end of the runway, who will be looking to get two to three shots of you. Have a few poses ready to go for that point of your walk.
When you're walking away from the photographer and back to start, you're still on the runway. Work it at every point on the runway!
Other body positive modeling tips:
Your body is your body and not some other body. Remember you are using your form to show off the clothing. Do not try to contort yourself into some other body shape, size or profile.

It's OK to say no if you aren't comfortable with something the photographer or company you're modeling for wants you to do.

Ask all the questions you need to ask to get comfortable and knowledgeable about what they're expecting of you.

Advocate for yourself. If you need something to make the job work for you, kindly ask for it!
We hope these tips help you in your body positive modeling journey!
SmartGlamour has an open casting call up, with a few slots left for auditions! Today is the last day to apply (8/30). Please follow SmartGlamour's Facebook and Instagram accounts for more information about the audition and the Fall 2017 show. Also, keep up with SmartGlamour via our newsletter!