This month's model feature is all about Bear Spiegel! Bear has been modeling with us for just over a year now. They've participated in runway shows, photo shoots, campaigns, and videos. Learn a bit more about them below.
---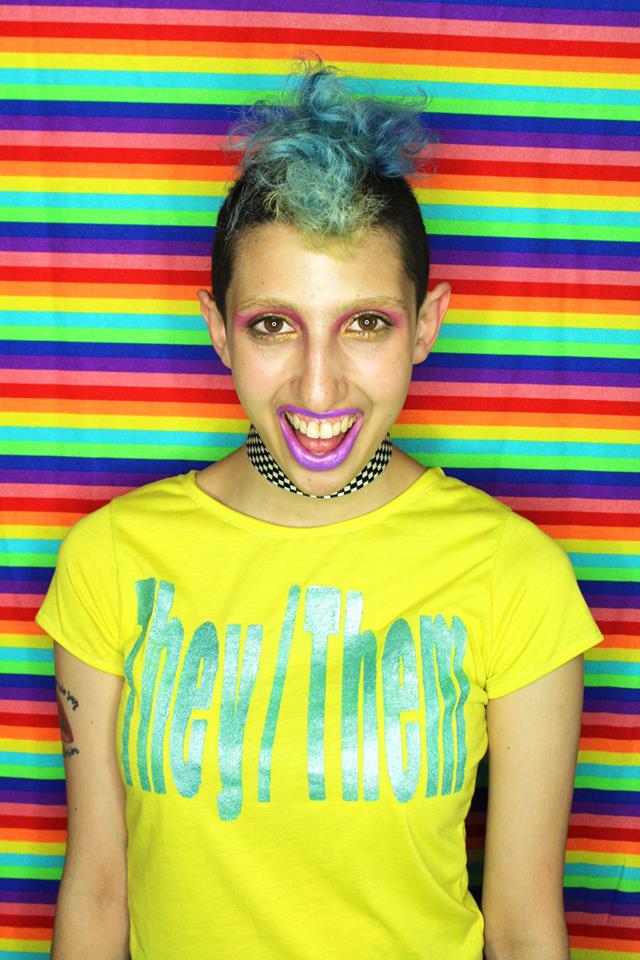 Bear in our Amelia Graphic Tee
1. Aside from occasionally modeling for SmartGlamour – what do you do?
Primarily I am an actor and activist doing my best to use theatre to educate and inspire others. I also perform in the city living out my fantasy as a drag queen, Bear Lee Legal. And I'm finishing up my final year of college in which I am getting my BA in acting along with a minor in gender and sexuality studies.
2. How did you get involved with the brand? I found a post in a Facebook group for queer women and transgender performers in which SmartGlamour was looking for models of all experiences to be in their #InYourSize campaign. I submitted, was selected, and was immediately hooked.
Bear in our Nikki Halter Top and Gloria High Waist Shorts
3. You've modeled for us multiple times – what makes you continue to come back?
As a nonbinary person, I don't always feel safe and validated in, primarily, femme spaces. SmartGlamour is a completely judgment free zone in regards to the clothing, my fellow models, and of course our fearless designer Mallorie. My gender and entire self never feels more validated than when I am doing a shoot with SG. I consistently leave with a smile on my face and an incredible amount of confidence.
4. What does body positivity mean to you?
To me, body positivity means minding your own goddamn business. It means that you focus on loving yourself, while not judging what anyone else is doing with their body. Body positivity is supporting ALL kinds of people in whichever way they choose to present themselves. My favorite motto is 'your body, your choice'. This applies to what goes in my body, on my body, around my body, and out of my body.
Bear in our Carbone Cropped Sweater and Malala Pants
5. If there is a message you could put across to women/femmes/non binary folks through your modeling photos – what would that be?
Clothing is not gendered. It is merely pieces of fabric with holes cut out of it and cut in different shapes. I always shop wherever I want to shop in whichever 'section' I want to shop because if I find something that is cute, you can bet I'm going to wear it because I am cute.
6. What is your advice to people who would like to give modeling a try?
My advice would be to make sure that you are modeling for you, and not anyone else. Find a supportive group of models/designers/photographers/etc. that want you to present yourself un-apologetically. Don't try to emulate someone else when you model, just be you!!
Bear on the Fall 2016 Runway