Next up in our Model of the Month Series is Lady Zombie!  Lady Z was in our very first "campaign" photoshoot – before we learned the importance of adding a hashtag and promoting our messages to publications! She then continued to come back and model for additional look books and runway shows. Let's learn a little bit more about her!
---
1. Aside from occasionally modeling for SmartGlamour – what do you do?
I live a Selina Kyle/Catwoman sort of life. By day, I'm a white-collar sort, and by night, I am
Lady
Zombie – Entertainer Extraordinaire! Aside from modeling for both fashion and art, I get involved in many entertainment and subculture related things. I sing in a self-titled group called, "
Lady
 Zombie and the Deviant Trust Project". DJ Amazin A and I put out sexy, pissed-off, electronic, trip-hop, goth music. I choreograph and perform in live "Kink Art" stage shows. I'm a Dominatrix, professionally and personally. I also produce and host goth/fetish and rock themed events in the tri-state area. I write the New York Goth Culture Column for Examiner.com. Lastly, and most important of all, I am a proud mother to a beautiful, smart, curious, and funny, one year old baby girl, and wife to Ali Fangsmith – a bad ass fang maker and jewelry carver.
2. How did you get involved with the brand?
I love to pose when a concept inspires me. When I can truly become a character or simply express something within me to the camera is when I feel most satisfied. I enjoy wearing incredible outfits and costumes, and to showcase the designs of others. I'm a body positive enthusiast! My deep-rooted interests in the macabre, the Gothic culture and the S&M lifestyle often showcase in my work. I fell in love with idea of SmartGlamour because of the inclusivity that was immediately apparent in their very first look book. When a friend recommended I apply to a casting, I immediately did. I am so happy that I did, too. Mallorie's vision is something to be inspired by and passionate about. Plus, the clothes are just so damned gorgeous. I can easily incorporate the looks into my alternative wardrobe.3. You've modeled for us multiple times – what makes you continue to come back?
The campaigns that SmartGlamour puts out make me feel excited, and I'm drawn to share the message with everyone I know! I was apart of the #MiracleMomBods campaign after having my daughter, for instance. It's so important to showcase "the real" in fashion, and to represent all the difference amazing types of bodies and lifestyles out there – SmartGlamour achieves this. Also, the community that SmartGlamour has created is something that I am proud to be apart of… working with people of such diverse backgrounds, every shape, every size, identity, ability,… it's incredible. Mallorie has an army of awesome behind her.
4. What does body positivity mean to you?
To me, body positivity is all about affirming a positive image of myself and this body that I am in, while not defining myself by my size and other people's ideas of what a body should be. It's about being good to myself. It's about loving every part of myself, including every "flaw." Additionally, I see body positivity as being able to embrace my scars, stretch marks, tattooed flesh, rolls and valleys, and seeing these things as parts of me, not as imperfections. My body is just an extension of the story of my life. It isn't always easy to overcome conflict with my body. Some days, I wake up and feel fierce as hell. Some days, I don't. Through body positivity, I aim to have more "fierce as hell" days, and to help other women, and people in general, to love themselves, too. I think fashion is a huge extension of body positivity, and I try not to put myself in a box and limit myself into any societal standards on how I should or should not dress. I dress to make myself happy. I dress to express my feelings and personal style.
5. If there is a message you could put across to other women through your modeling photos – what would that be?
I'm a black sheep among black sheep as a curvy, almost 30, latina, gothic woman. I can be all of these things, and still achieve success and happiness. I like that I am able to connect with and encourage people from a variety of walks-of-life to love themselves and feel less alone through my art, my writing, and my modeling. Through my photos, I want other women to feel strong and inspired.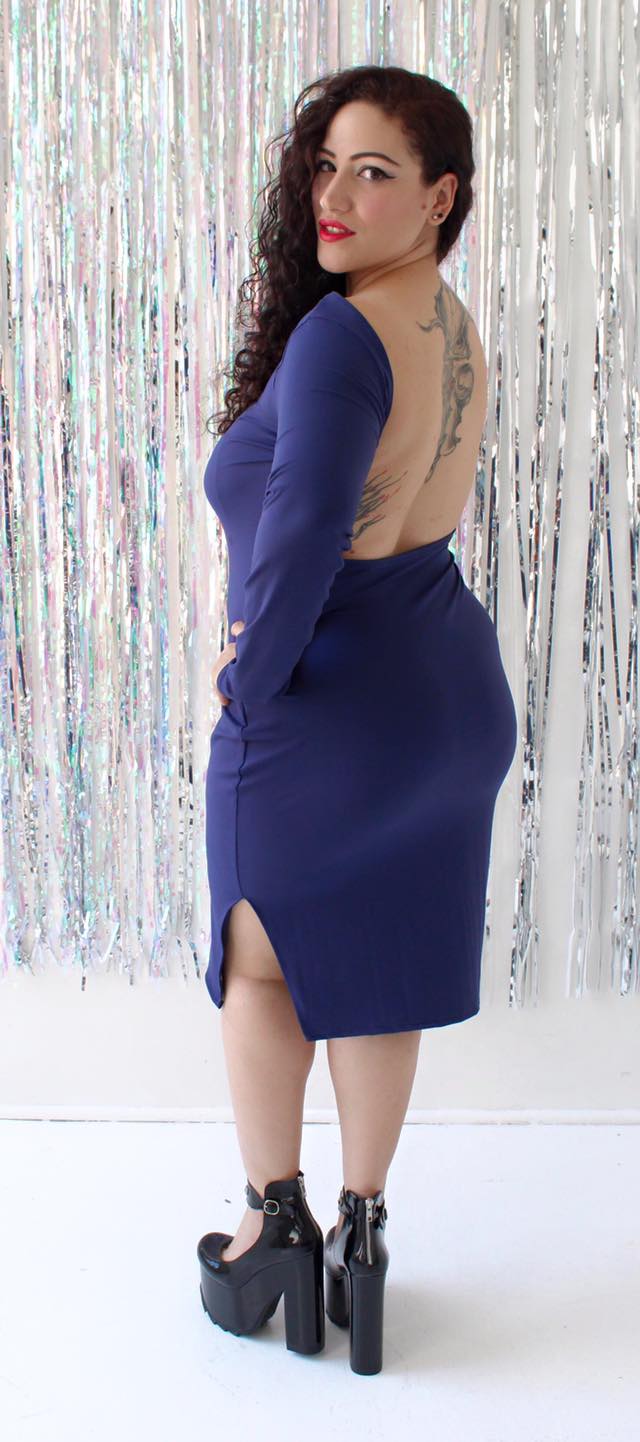 6. What is your advice to other women who would like to give modeling a try?
Work with brands and photographers whom you can identify with. Modeling is an art form, and it should make you feel good. Follow your instincts. Above all, have fun!