So happy to continue our SmartGlamour Tribute Series and fill you in on some incredible women and femmes that we dedicate our product names to! If you missed the first installment of this series – head here and learn about some amazing feminist artists from the 70s.
Most everyone has heard the quote – "well behaved women seldom make history" by Laurel Thatcher Ulrich – an inspirational tribute to women and femmes who want to make the world a better place. When you live in a world and society where cis men hold the power – any woman or femme attempting to change that systemic lay out will be perceived as "bad" – or not "well behaved" – or perhaps, "intimidating" – can you relate? Yea, me too.
But we celebrate folks like that! And we name our clothing after them. So keep scrolling and let's learn about some of the fierce femmes and ladies whose names adorn our Spring 2018 items.
Carmen Miranda
Carmen, born into a deeply Catholic family, moved from Portugal to Brazil when she was a young child. Though her mother supported Miranda's pursuit of a performance career, Miranda was beaten by her strict father after he found out she had auditioned to be on a radio show. She persisted and was soon discovered by a music producer, which led to her making records and films and becoming a Brazilian star. After six years of success in Brazil, Miranda was discovered by Lee Shubert, who brought her to New York to star in his Broadway musical The Streets of Paris. She refused to go without her band, wanting to maintain the integrity of the Brazilian sound. Brazil's President Vargas took advantage of that opportunity to pay the band's way to America, thereby turning Miranda into an ambassador for Brazil.
In 1939, Miranda developed her signature look of a flowing dress and fruit-and-flower turban, modeled after the style of the poor black girls from Bahia. She discovered the costume after appearing in a film in which she sang a song about empowering the lower social class of Afro-Brazilians. When she arrived in the United States that same year, Miranda and her costume became the symbol for all of South America. She was signed by 20th Century Fox and became an international star, making over fourteen films and bringing the rhythm of samba to Technicolor life. Miranda was the first Latin woman to imprint her hands in front of Mann's Chinese Theater and became the highest- paid woman in the United States in 1949. Ever the showwoman, Miranda worked right up to her dying day: a recorded appearance on a 1955 episode of The Jimmy Durante Show shows her kneeling down unexpectedly, then jumping back up to finish her dance number. Durante said she reported being out of breath. She died later that night.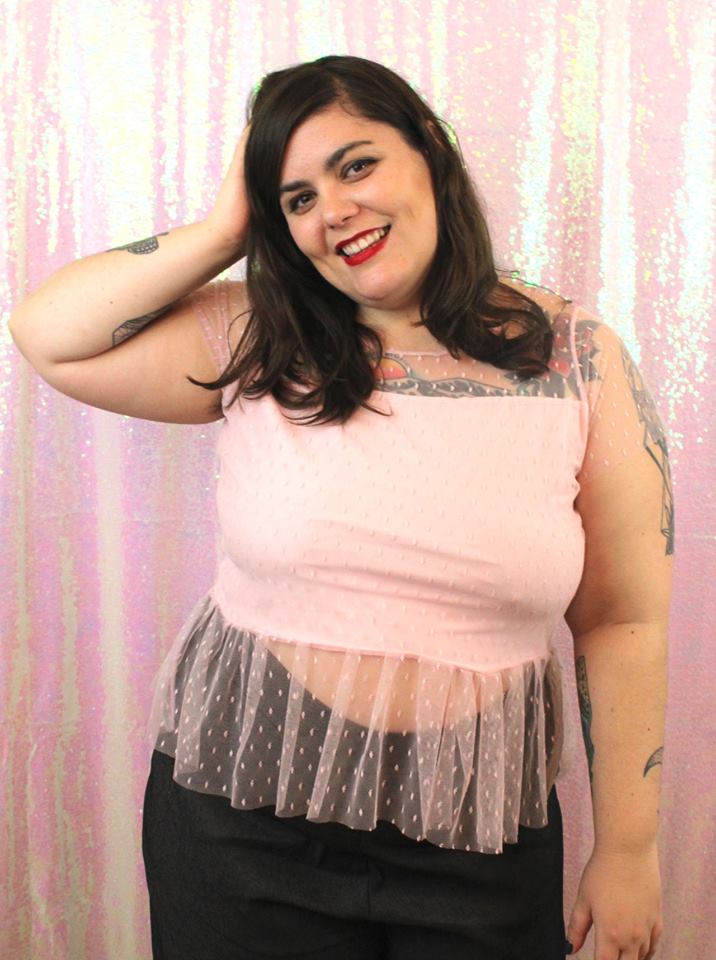 Anita Garibaldi Anita Garibaldi was the legendary love who shaped the life of Giuseppe Garibaldi, the father of modern Italy. Born to a poor family in Brazil, Anita met the young revolutionary Garibaldi when he came to the country for the Ragamuffin War. A skilled and courageous horsewoman, she taught him the gaucho way of life and joined him on the battlefield. They fought together with many rebel groups across South America, including in the Battle of Curitibanos, where she was captured by their adversaries and told that Giuseppe had died. She searched the battlegrounds, and when she didn't find his body, she escaped on horseback and crawled through the woods for four days without food or water until she was reunited with the rebels and Giuseppe—all while pregnant with their first child. Together in 1848 they traveled to join the war for a liberated and united state of Italy. Anita passed away a year later during a defeat; when Giuseppe rode out to hail the new king of a united Italy in 1860, he wore Anita's striped scarf as tribute.
Edith Head
The most legendary costume designer in Hollywood, Edith, actually lied her way into her first sketch artist position at Paramount Studios. With a bachelor's from Berkeley and a master's in romance languages from Stanford, Head was working as a French teacher and taking night classes at Chouinard Art Institute (now CalArts) so she could teach art classes to make more money. In 1923, she climbed the first rung of the designer ladder—with a portfolio of other students' sketches, she would later admit. Two decades after that, Head became the chief designer at Paramount at forty-one, and she stayed for twenty-nine years before leaving for Universal. During that time, she dressed almost every actor of the Hollywood golden age, working on over 1,100 films and earning thirty-five Oscar nominations for her costuming work. She won eight Oscars and still holds the record for most awards won by a woman. Head was known for a low-key working style and consulting extensively with her female stars, which was not a common practice among her nearly all-male contemporaries. This made her a favorite among the leading ladies, and they often requested her for their films.
Belva Lockwood
Born a farmer's daughter in New York, Belva rose to prominence as the first female lawyer to argue in front of the Supreme Court. When she was widowed at twenty-two and became a single mother, she put herself through college and earned a bachelor's degree. She opened a co-ed private school in Washington, D.C., before she turned her focus to the law. Lockwood lobbied for and helped pass an equal pay act for women in federal government. After that, at the age of forty-one, she decided to go to law school; she studied privately until she was accepted to National University Law School. After finishing her coursework, when she was denied a diploma because of her gender, she appealed directly to President Ulysses S. Grant, who helped her secure her degree. Lockwood became the second woman in D.C. to pass the bar; six years she later helped pass legislation that allowed female lawyers to appear before the Supreme Court. She became the first woman to be admitted to the Supreme Court bar and argued many cases for women and minority rights; a victory in one case awarded the Cherokee nation five million dollars. Four years after her entry into the Supreme Court bar, she raised the stakes even more by running as the first female presidential candidate with a full-fledged campaign. She had a glimmer of hope that her bid for presidency would help secure women's suffrage. Although she garnered just over four thousand votes, she had this to say: "I have not raised the dead, but I have awakened the living . . . the general effect of attempting things beyond us, even though we fail, is to enlarge and liberalize the mind."
Beatrix Potter
The creator of The Tale of Peter Rabbit and many books that followed, Beatrix Potter was raised in a wealthy, creative family in Victorian England. As was traditional for the time, Potter was privately educated by governesses and exposed to a broad range of subjects in literature, science, history, and the arts. She fell in love with watercolor and nature early on, and started her artistic career with scientific illustrations. She was particularly interested in the study of fungi and mushrooms—mycology—and even went on to submit an illustrated paper with her theory on their germination to a taxonomy and natural history group, the Linnean Society.
After sending letters to her former governess and close friend's children with little stories like The Tale of Peter Rabbit, she was encouraged to write children's books. When Potter turned thirty-six, The Tale of Peter Rabbit was published and became an instant success. It's widely credited as the world's first picture book for children. Walt Disney even offered to make it into a film, but Potter refused so that she could keep the rights. Potter went on to create spin-off merchandise of her storybook characters and licensed them to her publisher long before merchandising was commonly done in publishing. Potter wrote and published over thirty-three children's stories in her lifetime, all focused on the celebration of animals and British country life. She became a prize-winning breeder of Herdwick sheep and a land preservationist. Upon her death, she bequeathed her estate to the National Trust, and most of her property became the Lake District National Park in England. Potter planted her own garden in life and happily opened it up to everyone to enjoy long after her death.
Boudica
(TW: violence, sexual assault) Boudica was a British queen of the Iceni tribe during the golden age of the Roman Empire in 60 C.E. After the death of her husband, King Prasutagus, the alliance between the Roman Empire and the British island tribe fell apart and the Romans moved in, pillaging the island. Boudica was flogged and her two daughters were raped; this drove her to a bloody rampage for revenge. She rallied more than two hundred thousand from the British tribes to battle the Roman forces. Brutal tactics—decapitating and mounting enemies' heads onto their chariots—became a hallmark of her army. Boudica's forces left an estimated eighty thousand dead in its wake and burned three major cities to the ground—including what is now London. After Rome got over its disbelief that a woman could lead such a rebellion, their soldiers took down her mob, yet Boudica disappeared, never to be heard from again.
Empress Wu Zetian
(TW: violence, child death) Empress Wu Zetian (624–705) rose to become the first and only female Emperor of China after joining the palace at the age of fourteen as a junior concubine to Tang emperor Taizong. Known for her ruthless political ambition, Zetian was said to have begun her ascent by murdering her infant daughter and charging the crime to the existing empress—who was then executed by dismemberment and drowned in a vat of wine (no, Zetian was not messing around). She eradicated most of the opposing old aristocratic guard and at least fifteen claimants to the throne by forcing them to fall on their own swords in front of her as punishment for treason.
First acting as the empress dowager when her own son ascended to the throne, Zetian threw out the title (and her son) and declared herself the sole Empress of China, founding her own dynasty (Zhou) at the age of sixty-five. Despite literally dismembering her challengers, Zetian gained the loyalty of the men she recruited by expanding the imperial service test to include men of diverse backgrounds, so they were promoted for their talents instead of by birthright. Her power grab was met without resistance, and during her short rule of fifteen years China expanded both globally and socially in a positive manner. Since the level of her power and ambition was unseen in women of the time, it's possible that the claims of her ruthlessness are greatly exaggerated.
Norma Shearer
Canadian-born Norma Shearer used her sheer determination and charm to overcome the fact that she didn't fit the Hollywood ideal of beauty to become one of the leading ladies at MGM in the 1930s. Shearer finally got a ticket to Hollywood in 1923 when her role in a B movie caught Louis B. Mayer's attention and landed her a contract. In two years, she went from being a contract player to one of MGM's biggest stars, often playing the role of a spunky, sexually liberated ingenue. Shearer was the first American actress to make it socially acceptable to portray a single girl who was not a virgin on screen. Over the course of her twenty-three-year career, she was nominated for eight Oscars.
Lilian Bland
Irish journalist and aviator Lilian Bland (1878–1971) never fit the mold for females of her era—she wore trousers, smoked, practiced jiujitsu, and even swore a little. Bland had a habit of adopting unconventional careers; she began as a sports and wildlife photographer for British newspapers before she was inspired by seeing Frenchman Louis Blériot make the first flight over the English Channel in 1909. Bland became the first woman to design, build, and fly her own aircraft, the Mayfly. It was wryly named because Bland said it "may fly, may not fly." She tested and modified the glider herself; when she fitted the engine into the plane before receiving the fuel tank, she improvised a tank with a whiskey bottle and an ear trumpet. Her impatience and ingenuity paid off: just a year after she decided to build and fly a plane, she became the first woman to do so, in 1910. Bland flew over thirty feet, just a little short of the distance of Orville Wright's first flight in 1903. Bland continued to improve and fly the Mayfly until her dad, fearing for her safety, bribed her with a new car if she'd stop flying. Since she felt the aircraft had reached its limits, she decided to accept the bribe, having made her point that women could also be aviators. She then married a Canadian man and moved to Vancouver, where her pioneering spirit led her to establish new farmland in wild territory.
Josephine Baker
Black Pearl. Bronze Venus. Creole Goddess. These are just some of the names that showgirl, activist, and spy Josephine Baker (1906–1975) was given in her life. Born into poverty in St. Louis, Baker was on her own at thirteen and danced her way onto the chorus lines of Broadway, quickly followed by the Paris revues. Her influence in Europe was so big that the French government asked her to work as a spy for the Allies during World War II—just by socializing as she did at high-level parties with German, Italian, and Japanese officials. She carried secret notes written in invisible ink on her music sheets as she freely toured across borders.
When she returned to America for a performance at a New York club, she was enraged by the segregation laws still in place. She became a civil rights leader and marched alongside Martin Luther King, Jr., in the March on Washington. She was the only official female speaker that day. After King was assassinated, his widow, Coretta Scott King, asked Baker to lead the movement—but Baker declined, stating that her children were too young to lose their mother. To fulfill her dream of showing the world that people of different ethnicities and religions can live in peace, Baker adopted twelve children from different countries, forming a family she would come to call her "rainbow tribe," and raised them in her French castle, Château des Milandes.
Dorothy Dandridge 
Dorothy Dandridge (1922–1965) was a Hollywood actress and singer who became the first African-American to be nominated for a best actress Oscar. She broke into show business performing and touring around the United States with her sister and a friend as the Dandridge Sisters before becoming a solo act, singing in clubs that she wasn't even permitted to eat in due to segregation. Refusing to be pigeonholed into supporting maid roles, Dandridge got her first break in 1953 with MGM's Bright Road. She played a teacher struggling with a problem student—and, miraculously, the story didn't even revolve around race. In 1954, she became a megastar in Carmen Jones, the film adaptation of the opera Carmen, playing the brazen and sexy lead role, which earned her a historic first Oscar nomination and the cover of Life magazine. The starring lead and nomination changed America's perception of African-American actresses, and the shift was permanent. Unfortunately, Hollywood is slow to evolve, so while her films were a breakthrough, leading roles for African-Americans remained few. Dandridge never found another role that matched the success of Carmen Jones, and her personal challenges took a toll. She died of an overdose at the age of forty-two.