This is definitely a time of year when "body goals" are a big deal. Here at SmartGlamour, we say the goal is to love yourself as you are! Here's some body positive goals and insights from some of the models featured below, meant to help you have the best summer ever!
Accessory suggestions: smiles and confidence!
From left to right: Katie in the Ada Low Back Swimsuit , Moet in the Marilyn Convertible One Piece Swimsuit and Detras in the Arianna Convertible Swim Top and Bette Swim Bottom
It's all about how I see myself, how I feel about myself and best of all HOW MY BODY FEELS! Because I love myself, my smile comes from the deep within. I hope it radiates through an entire room because it's pure and I want the world to feel my joy!!! – Detras
I constantly challenge the crap we're fed [by society and the media] that says "you're not good enough, unless…or until…etc" I learned to realize that my body is already perfect, and that the "perfect" body does not exist or looks different for everyone.  – Rachael
Strike a powerful pose whenever possible. You'll feel powerful when you do!
L to R: Ana in the Bloomer Dress, Rachael in the Danai Off-the-Shoulder Top and Susan Palazzo Pants, Meredith in the Audre Halter Maxi Dress.
I always struggled with my body and height growing up. I would wear a tee shirt to the beach and pool! In high school and most of college, I was in a long term abusive relationship which completely shattered my self-esteem. After escaping that experience, I fell into modeling which helped me see that no one can truly make you feel inferior unless you let them. – Ana
I remind myself daily that I am so much more than my body. On days when I don't feel that great about my body, I remind myself of all of the amazing ways my body serves me everyday!  – Rachael
Get your body next to the bodies of people you love!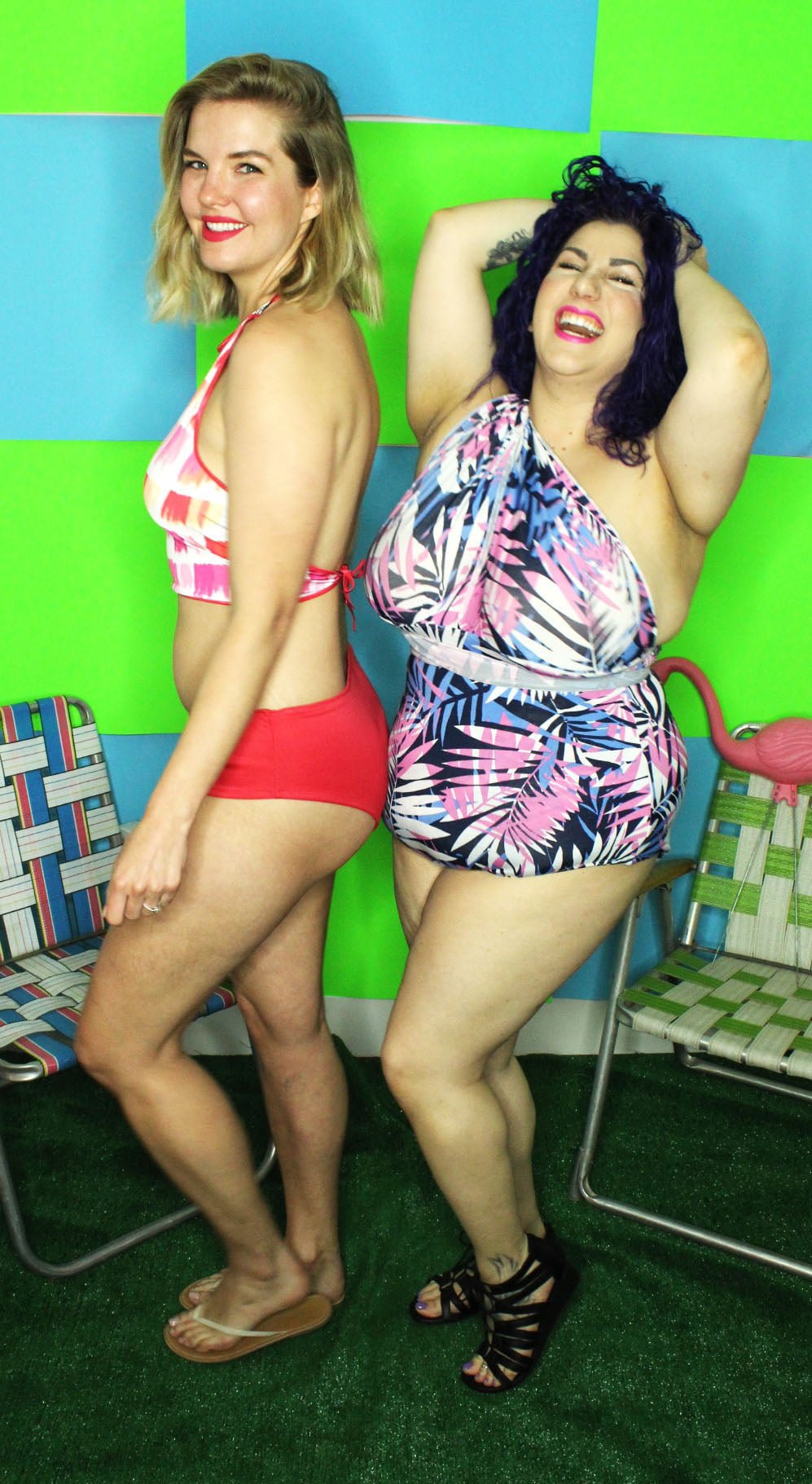 L to R: Annoula in the Marilyn Convertible Romper, Detras in the Ada Low Back Bodysuit and Jaime Wrap Skirt, Rachael in the Misty Swim Top and Bette Swim Bottom and Alessandra in the Arianna Convertible One Piece Swimsuit
Don't feel bad about weeding out or unfollowing people who don't feed your purpose or add positivity to your life. – Moet
With [my new body positive] mindset, my confidence grew as I met fellow women who were on self-love journeys like [me]. It's so important to surround yourself with other body positive people. – Ana
Put your body in as many pieces of clothing as you feel beautiful in.
L to R: Alessandra in the Betty Sweetheart Top and Gloria High-Waist Short, Annoula in the Lupita Keyhole Swim Top and Bette Swim Bottom
My winter body is my summer body! Don't care about what people might say about you in your swimsuit, because for every hater, there's ten others you inspired. – Alessandra
I used to hold myself to a few strict rules: no crop tops, and no two-piece bathing suits which showed off my midsection. Once SmartGlamour came into my life, I continued with my "no crop top" rule and customized all my tops to an approximate hip length. That summer, however, Mallorie (Meredith's sister, and SmartGlamour's founder/designer) encouraged me to try a high-waisted bikini. When I first wore it to my local pool, no one was more surprised than me when the world kept spinning, and no one even glanced my way more than once! Since then, every summer I proudly rock my bikinis and crop tops because I think I look super cute in them. And everyone deserves to be cute and comfortable. – Meredith
Hold your head up high. Rock your invisible crown!
L to R: Meredith in the Marilyn Convertible Swim Top and Bette Swim Bottom, Ana in the Pat Faux Wrap One Piece Swimsuit
Mantra: "Girl, you fine. I know." – Alessandra
When I finally looked in a mirror one day and fell in love with the image that looked back at me, that's when I knew my body I great just the way it was. I love who I am and every curve I have are the best parts of me. I'm uniquely shaped and my goodness, I couldn't have asked for a better body. – Detras
Let your clothing be a celebration of you!
Katie in the Shonda Swing Dress and Moet in the Angela Pleated Tank and Keah Pleated Short
I have gotten to my current [body positive] mindset by just realizing that life itself is too precious to waste time hating myself…. When I have an automated negative thought about myself I think, "What would I say to a friend? Would I actually be that cruel to someone else?" And no, I definitely wouldn't. – Moet
Have a wonderful summer and remember that SmartGlamour has your back in all things body positive and ethical, fun fashion!
L to R: Rachael in the Misty Swim Top and Bette Swim Bottom, Moet in the Marilyn Convertible Swim One Piece, Katie in the Ada Low Back Swim One Piece and Detras in the Ada Low Back Bodysuit and Jaime Wrap Skirt.
Sunglasses featured on models courtesy of House of Correia.  Piece written by Patricia Birch.